Welcome to Bailey's Bar & Grill
After purchasing and renovating Jim's Inn, a long time Tinley Park establishment, Bailey's opened in March of 2009. Our goal was to create a warm friendly atmosphere with an elegant feel and cozy setting, where friends can gather to enjoy good company, excellent food and cold drinks.
We believe that we have achieved that goal. Bailey's boasts a full menu, with appetizers, sandwiches, salads, and entrees. We always have food and drink specials, and feature live entertainment, and special event nights.
We open our doors and invite all of our neighbors to come by and see what we have created here in Tinley Park.
Thank You for your support,
Ron & Tammy Bailey
May Music !
Cubs - Home Games !
White Sox - Home Games !
Happy Hour at Bailey's !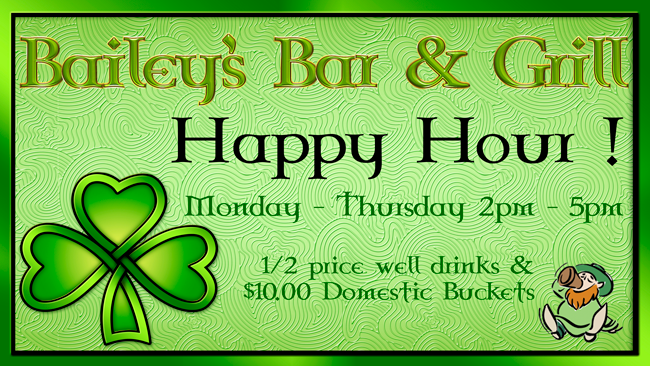 Private Parties !!